In this time of social networking, the biggest channel to promote a business or product is the social media websites. According to research, it has been found that Facebook is the biggest hub to generate revenue from a little investment in this marketplace.
Sometimes, you may be facing some issues dealing with people who are neither connected with your page nor your target audience. They may harm your business integrity and you may not be able to get your expected profit. Here is how to ban someone from a Facebook business page who hasn't liked it.
By the end of this blog, you will be able to learn all the methods through which you can do this task using any of your devices. Let's get started without wasting time and saving your business investment.
Why Do You Need To Block Someone From The Facebook Business Page?
Before you go to the processes to block someone from your business page, you should need to know the reasons behind this act. It is because many people think that it is an anti-social act. In turn, they have to face complications to reach their desired audience.
No doubt, this is a fact to some extent but in reality, it is also compulsory to take such precautions. The reason is some people maybe comment on your posts that are not acceptable at all. For instance, you are working on your education-related business and someone will come up with an inappropriate video link to share in the comments.
In such a case, you will not be able to do anything instead of banning that account from your business. If you don't do this, you may not be able to survive in the marketplace. That is the main reason why you need to take such precautions and block a person who hasn't liked your page but posting such things.
How To Ban Someone From a Facebook Business Page Who Hasn't Liked It?
Whether you are dealing with your business through a desktop or mobile device, you will get the solution to this problem here. So, you should read it till the end to ban a Facebook profile to save your Facebook business page.
Using Your Desktop
If you have a laptop or desktop device, you should follow these steps to ban someone from the Facebook page. For better outcomes, we recommend you to follow these steps strictly because a minor change in the process may block someone else or take you to the disability of the page.
Go to Google browser
Search for Facebook.com
Login to your account using email/number and password
Look for the page you are operating
Go to page settings
Tap on the People and Other pages button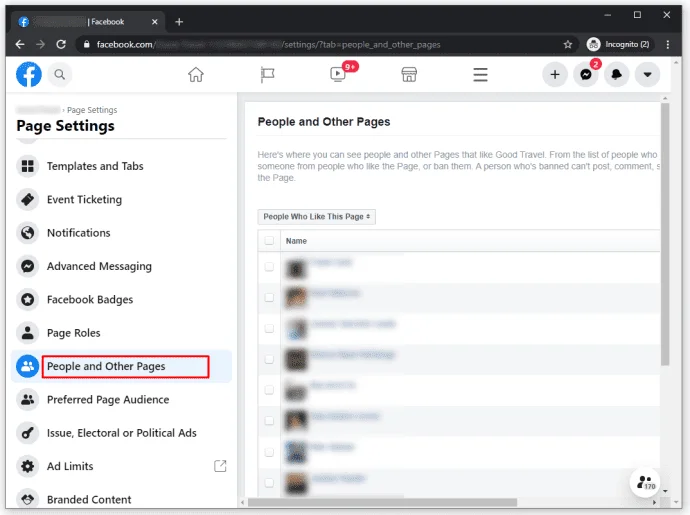 Hit the "+ Ban a person"
Enter the name and search
Choose that specific profile
Click on the Save button
In this way, you can block someone from a Facebook page who hasn't liked it. If you want to block someone from your liked people list, you only need to change the steps below the "+ Ban a person" step. Here is what you have to do in this regard.
Go to Page and other pages settings
Search for the name in the search bar
Choose that person
Click on the Ban from the Page
Using Your Android
If you want to do this task with your handy device, you should follow these steps. The process is similar but you have to deal with a small interface and open some sub-sections too.
Open the Facebook App
Go to your page
Search for the person on the Facebook
Open the profile and click on the three dots from the right section
Click on the block button
Confirm the activity
If you are seeing the person sharing such inappropriate content on the profile too that is not acceptable, you can also report that person. The Facebook community will analyze the profile and ban that person from the website. The process may take a few hours because it is not as fast as the blocking process is.
Using Your iPhone
Blocking someone from the Facebook page using the iPhone device is the same as for the android. So, you can follow the same process to do this task and avoid inappropriate activity from your page.
Final Wrapping
By following the above guide, you have learned how to ban someone from a Facebook business page who hasn't liked it. The process will be simple and fast if you have followed our guide. We strongly recommend doing this if the content shared on your post is not acceptable.
It is because if you are doing this without any issue, the Facebook algorithm will start pushing your rank lower. This won't be a good sign for your business promotion or success.