Do you have any brand presence on Instagram? Are you looking to get more reach to your Instagram posts? If you are wondering about this and asking someone about tricks, you must have heard about Instagram account verification.
It happens a lot because this social media platform is considered the best for marketing and promotion. In this blog, we are going to tell you about Instagram verification deeply. We will tell you how long does it take to get verified on Instagram and how you can do this.
By the end of this guide, you will be able to explore all those factors and steps that you should keep in mind in this task. You can also learn about the best time to post something on Instagram for better reach here. Let's get started to learn about verification on Instagram first.

What Does Actually Instagram Verification Mean?
First of all, you should make it clear what is actually Instagram verification and what it will look like. It is a common question that many people have about Instagram verified account display and working. In reality, the verification of Instagram means having a blue tick on the profile picture.
When a person has verified his Instagram profile, he would be given a checkmark badge along with a tick. It will show that the account has been handled by some authentic person from the public figure department, any actor, or any famous personality.
In simple words, all those profiles will get a verification badge if it is from the interests of someone on social networking platforms. Sometimes, you will get verified instantly after creating an account if people are searching you over there.
It happens when you are a person who has been discussing in different sectors around the globe. This verification type is common for cricketers, football players, and a few others. But if you are dealing with a brand account and looking for smooth branding, you should request Instagram to verify your account.
Why Get Verified On Instagram?
No doubt, the main focus of this article is to tell you how to get verified and how long does it take to get verified on Instagram. But you should also learn why it would be better for you to work from a verified account instead of a regular one.
Here we are going to show you some reasons that will tell you about the importance of Instagram verification. The very first reason is that your account will be shown differently than all other regular accounts.
It would help the visitors to come to you and connect with you instead of others. A verification badge on Instagram will help you a lot in engaging the audience with your content for a long. It will increase the probability of becoming a follower by an ordinary visitor. You will also be able to see a huge difference in the views of your Instagram highlights after getting verified.
When you have a verification badge, you will be shown on the top results whenever a person will search for your name. No doubt, Instagram does not allow multiple accounts of the same name. But when you search for a name with a misspelled name, you will get multiple users with matching usernames.
The Instagram verification will let you stand in the top position in such cases. Therefore, you will get a huge exposure from the users and get reach on your account beyond your expectations. Due to all these reasons and many others, you should get your Instagram account verified instead of running a regular account.
How Long Does it Take To Get Verified On Instagram?
We all know that everyone around the world wants to get his tasks completed quickly. Don't be hectic when you are dealing with your business or any of your business-related tasks. It happens a lot when we want to do everything within a fraction of a second.
If you are also one of those hectic people, you should be patient in this regard. It is because Instagram will take 3 to 4 days to verify your account and let you stand on the top of the list. After verification, you will see a prominent difference in reach on your Instagram. If you keep posting regularly, you should also learn how to find someone's comments on Instagram to find any of your big fans.
How To Get Verified On Instagram?
If you are having a hard time in the verification of your Instagram account, this is where your problems will be solved. It is common to have an issue in this regard that we are going to clear here in a step-by-step manner.
The most common question that we get in this dimension is am I eligible for verification on Instagram. Here is which type of accounts is looked verified on this platform.
A public figure
A showbiz Star
A Gamer
A politician
A famous soldier
A leader
A brand account
If you are dealing with any of the above sectors, you can get a verification badge on your profile. Now, you have to make sure that you are meeting the following requirements. These are not requirements but you should make sure to set your accounts to these limits for one-tap Instagram verification.
Your account should be public.
You must have written the bio properly.
Your profile photo must be as per Instagram guidelines.
You should have published at least one post.
After making sure that you are up to all the above requirements, you only need to follow these steps. It will help you in getting verified on Instagram.
Open Instagram application
Login to your account using username and password
Click on the profile picture
Open settings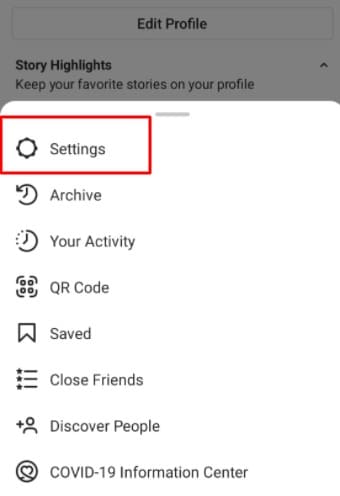 Check for the Account option
Tap to enter account settings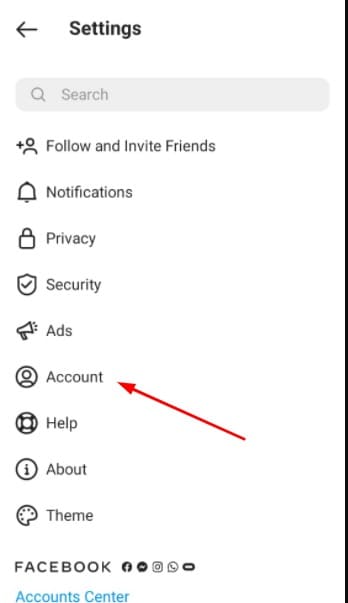 Scroll down to get Request Verification Option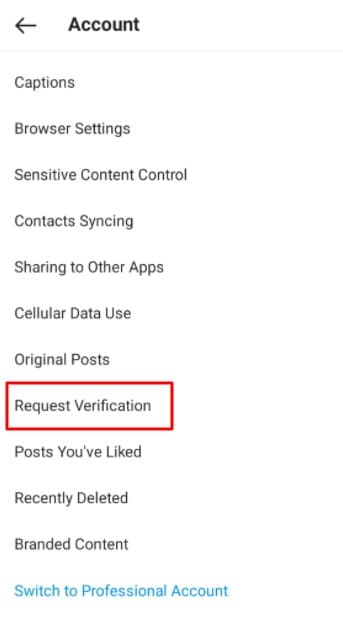 Fill out the form that has been opened on your screen
When you have done, just tap on the Send button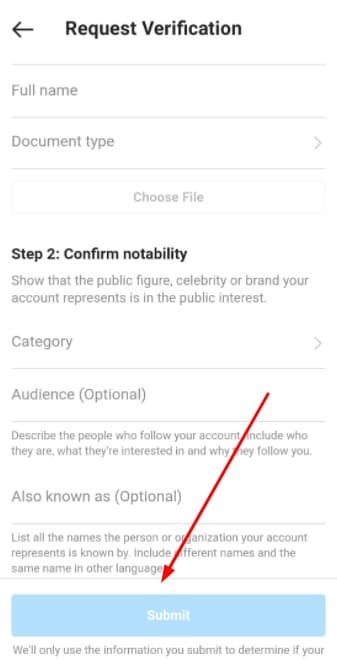 These are the steps that you have to keep in mind and follow properly for verification. You should keep focus while inserting details in the form to avoid any accidental mistakes. After 3-4 days, you will get an email on your registered account regarding whether your account is verified or not.
Is it Possible To Get Unverified After Verification?
It is a famous quote, "Before you start, learn how to end up". Whether you are looking for a business strategy or a marketing strategy, you should learn about every single sector of the task. The same you have to do while your account has been verified by Instagram.
The most common thing that comes to mind is will my account keep blue tick forever after first verification. If we say no, the answer might be right to some extent. The reason is you may lose the verification badge if you are not connecting with people timely or providing some content that is restricted by the platform.
Therefore, you should adopt some practices and techniques to keep enjoying the services of a verified account. Here are some tips that you can follow in this regard.
Keep your account updated
Respond to the comments timely
Provide quality content
Never share something controversial
Keep your activity smooth and regular on the platform
Final Wrapping
In the above blog, we have discussed how long does it take to get verified on Instagram in a step-by-step manner. You should learn the process with attention to get your account verified and stand in the top position. It will help you a lot in getting a prominent audience on your business account and get more profit as per your expectations.
Hope you have a good day!
I am Muhammad Usama, a passionate SEO Writer and Copywriter working in this field for 7 years. During this duration, I have worked for various customers throughout the globe by securing them from different freelance platforms including Fiverr and Upwork. I have also built a few online assets including websites like Techforevers.com.
You can contact me for quality SEO Writing and Copywriting services to boost your website's authority or brand's visibility in the market. I will be happy to serve you with my quality writing services at affordable prices with uniqueness, authenticity, and quality guarantee. Let me help you grow your digital asset and give you strong feet on the ground.
Regards,