Undoubtedly, LinkedIn has become the most used platform for searching for jobs by workers in almost every field. The reason is this platform is considered a professional one as compared to other platforms like Facebook, Twitter, and Instagram.
But the question comes why it is labeled as a professional platform. The main thing that makes it different from other platforms is the availability of tools for job seekers and content creators. It is a common question asked by its users, "How to check applied jobs in LinkedIn".
No doubt, you are sending proposals to different jobs daily but may not know how to check those jobs after applying to them. It is because this option is available in a specific section of your profile and not visible like other general options.
This blog post will help you understand how to check applied jobs in LinkedIn step by step. We will also share some tips to get profitable results from your time spent on this platform.
How to Check Applied Jobs in LinkedIn?
The method to browse the jobs that you have applied for is pretty simple. You can quickly perform this check by following these steps:
Click on the "Jobs" option given in the top menu bar

On the next page, you will see an option "My Jobs" in the left vertical bar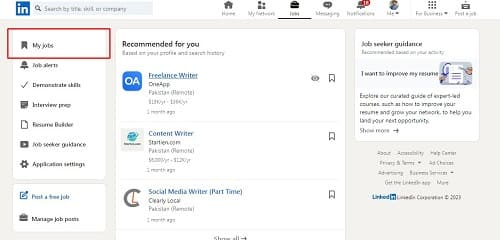 Click on that option to move to another window

Now, you will be able to see all Applied Jobs on the page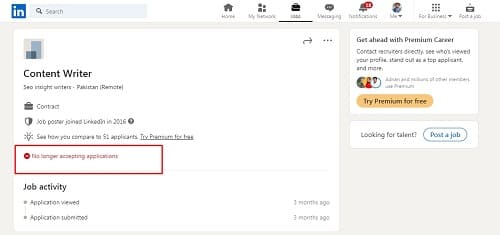 You can click on any job to open the description
It will also let you know the status of the job
These are the steps that you should keep in your mind while looking to learn how to check applied jobs in LinkedIn. It is important to follow these steps as they have mentioned because the sequence is important for the right results.
Is LinkedIn Reliable For Getting a Job?
Sometimes, you may be thinking about this question. It becomes a common question for users who are struggling to secure a job on this platform. The simplest answer to this question is that LinkedIn is reliable for securing jobs based on contract, permanent, full-time, and part-time contracts.
You only have to browse the jobs carefully and try to approach the job that you think is authentic. For example, if you are looking for an internship opportunity on this platform, you should learn how to find an internship on LinkedIn.
Similarly, you should learn the right way to find a specific job on this platform by reading blogs, watching videos, learning from mentors, and performing deep research. Undoubtedly, LinkedIn is a reliable platform for searching jobs but only for those who are utilizing it in the right way.
How to Increase the Chances of Getting Hired on LinkedIn?
Many LinkedIn users claim that they haven't found this a reliable and successful job-securing platform. On the flip side, people are posting success stories about their jobs that have been secured and completed by the same platform.
The question that comes to mind is how to increase the chances of getting hired on LinkedIn. To get successful results, you must have to perform in a proper way to secure a job. In simple words, you shouldn't blindly apply for a job and wait for the call.
But you have to make your profile professional and optimized before browsing it. Here are some steps that you should keep in your mind while looking to make your profile good, authentic, engaging, and professional.
Optimized Picture/Profile
First of all, you should make your profile optimized and sensible. If you don't know how to do so, you should check other successful users on this platform. You must capture an image that decently depicts your sensible personality.
In simple words, you shouldn't upload the same picture you have been using on other social media channels just for fun. It will not let you gain the attention of the users on this platform. Also, the recruiters will get a bad view of your personality and close your profile instead of interviewing you.
The best approach in this regard is to learn the method to download a LinkedIn profile picture. It will help you in checking other users' profiles and get a picture like theirs to make your profile good-looking. Along with this, you should choose the frame of your profile picture carefully to give the visitors a proper look.
Add Projects/Portfolio
Do you know what attracts the recruiters most? It is the collection of projects that you have set as your portfolio or updated directly in the project section. By looking at your completed jobs, recruiters can easily estimate why they should contact you.
No one wants to let the recruiters go back from their profile without hiring them. Do you? You must be looking for a solution to make your projects professional and attractive for better engagement.
If you are struggling in this regard, you should learn how to add projects on LinkedIn. It will help you in learning the steps and follow them one by one for better optimization of projects. You can easily professionally upload a project by following our guide.
Stay Active
Don't keep the myth of getting jobs quickly after applying to them in your mind. You should quit this though if you have because it has kept many people on the waiting list only. For getting jobs, you should stay active on LinkedIn.
It doesn't matter whether you are using this platform for job seeking or any other. You should stay active to be visible when recruiters come online. Along with being active, you should also tell the users, recruiters, and companies in the market that you exist on LinkedIn.
For this purpose, you must need to interact with people via comments, share their content, post your content regularly, and take part in communications. It will make you a prominent user as people will be able to see your name in most sections.
Along with this, LinkedIn will push your profile higher when you are participating regularly. Don't limit your activity on this platform and keep scrolling it regularly for better ranking in the feed of other users.
Final Wrapping
So, it was the complete guide on how to check applied jobs in LinkedIn. We have also shared some tips following which you can easily secure multiple jobs. It is time for you to follow these tips and start using this platform for a successful career.
Hope you have a good day!
I am Muhammad Usama, a passionate SEO Writer and Copywriter working in this field for 7 years. During this duration, I have worked for various customers throughout the globe by securing them from different freelance platforms including Fiverr and Upwork. I have also built a few online assets including websites like Techforevers.com.
You can contact me for quality SEO Writing and Copywriting services to boost your website's authority or brand's visibility in the market. I will be happy to serve you with my quality writing services at affordable prices with uniqueness, authenticity, and quality guarantee. Let me help you grow your digital asset and give you strong feet on the ground.
Regards,