LinkedIn, being the most professional social network, is getting popularity in every part of the world. Almost every third person knows about this platform and its basic features. But have you wondered about its hidden and important options?
You may not have done so because many people feel afraid while doing this. As a LinkedIn user, you may have seen a job section that you are afraid of browsing because of less experience. If you are not using this option due to this, you should check internships on this platform.
Don't you know how to find internships on LinkedIn? You should read this guide till the end as we will show you step by step. In this blog, you will learn about this option in detail. Let's get started!
How To Find Internships on LinkedIn?
Finding internships on LinkedIn is similar to finding jobs on this platform. It means that you don't have to follow a new method to do so but you can accomplish this task using the same approach. Here are the steps that you have to follow for finding internships on LinkedIn.
Go to linkedin
Click on the Jobs option given in the top menu bar

Now, search for your skill to get the listed jobs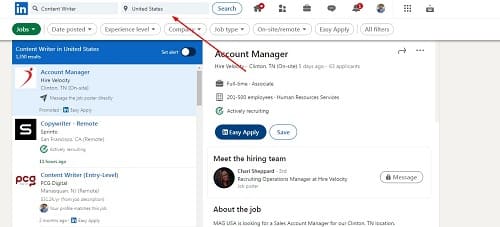 Click on "Experience Level"

Select "Internships" from the drop-down options
Tap on "Show Results"

It will filter all those jobs that have been listed on LinkedIn and are live at the time of your search
By following these, you can easily search for internships on LinkedIn. Isn't it pretty simple? You should pick this option instead of a full-time job from this platform if you are still working on your skills. To keep checking on the applied internships, you can get assistance from how to find applied jobs on the LinkedIn blog.
How Can You Increase Your Chances of Getting An Internship?
Till now, you have learned the way to find internship opportunities and methods for how to find internships on LinkedIn. But you might be struggling with being selected. Don't worry if you are because we are here with some tips that can help you in securing an internship on this platform.
By Optimizing Profile
First of all, you should optimize your profile by adding hot-selling keywords wherever necessary. It will help you in getting appeared in the results when someone searches for your inserted keywords. Keep in mind that recruiters always search for profiles randomly for the job they have in their companies.
So, you should keep your profile well-optimized and professional. You can also choose an option between following and connection for easy access by recruiters. It is common that you miss accepting the invitation of someone mistakenly and lost the chance to get hired.
In turn, the option of following can be a good choice. It will enable your visitors to send you messages just after following your profile. So, you won't have to accept requests manually and get messages from recruiters without any issues.
By Showcasing Your Skills
The most effective tip in this regard is showcasing your skills for the recruiters who have landed on your profile. For this purpose, you should properly write descriptions, add projects on LinkedIn, provide a portfolio, add all companies where you have worked, and use a professional image.
You should seek assistance from any online resource if you don't know how to do so. It will help you in making your profile perfect for getting the attention of readers and visitors. As a result, you will be able to have the attention of more recruiters and get interviewed or hired for an internship.
By Interacting Regularly
Do you know how LinkedIn ranks your profile? If don't, you should learn a little as it will help you in finding an internship, job, or project via this platform. First of all, you should post content to your profile regularly.
You can upload any type of content like informational, promotional, or anything like this. As a result, it will help you in getting noticed by your followers as well as new visitors will also spend time on your profile.
Secondly, you should interact with other profiles by responding to their posts, using the comment section, and related options. It will help you explore more audiences as you will be able to get visibility among them.
Along with this, it might be possible that you will get an internship opportunity with the person whom you are interacting with. Isn't it an easy approach for finding an internship or job via LinkedIn?
Final Words
By reading the above blog, you have learned how to find internships on LinkedIn. You have read the simplest approach to do so as well as learned how to make your profile optimized for better attention. In simple words, we have wrapped the simplest guide to let you secure an internship via LinkedIn.
My name is Hassan, an SEO Expert having field experience of more than 10 years. During my career, I have helped multiple businesses in getting a strong position in SERP results with my optimization techniques as well as have built my websites too. With my SEO expertise, we have grown this website to make it visible for people in search engines.
Let me help you grow your business too by connecting via LinkedIn.