We are living in an era of technology where we want to get everything at a distance of a single click. Now, it is common to get it hard for us to look at our mobile phones and TV simultaneously to watch our favorite shows. This is where you will find our guide on how to connect phone to TV using AV cable.
In this blog, we are going to tell you about specific cables as well as methods through which you can connect your small device with the larger one. You only need to read this guide properly and understand all the steps mentioned below.
What is An AV Cable?
AV stands for Audio Video which is a specific cable used to input audio and video into your TV or monitor. This type of cable is used to connect multiple devices by giving them a single input or multiple ones as per your requirements.
Normally, AV cables are not available in a single format but you will get multiple wires combined. You can see wires in Yellow, Red, and White colors alongside. The Red and White cables are used to connect the audio of one device to the other while the Yellow wire will input the video signals.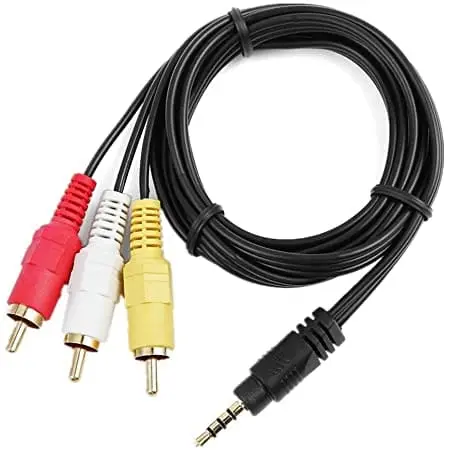 When you connect AV cables with a device, the signals from that device will be transferred to the second one. So, you will get audio, video, or both on the bigger screen just by making some connections. In the following section, we will guide you on how to connect phone to TV using AV cable properly to avoid any unexpected conditions.
Why Do We Need to Connect a Phone To The TV?
The main question that comes to mind is why we need to connect our phones to TV. No doubt, we are using our handy devices too much instead of using desktops or laptops nowadays. But you may be finding it hard to use it while watching movies with your family or looking to share data.
These are the reasons why you may be looking to connect your phone to the TV and enjoy the display on the bigger screen. It would be pretty simple to do this task unless you are not using an inappropriate guide. You should follow the following steps to learn how to connect phone to TV using AV cable.
How To Connect Phone to TV Using AV Cable?
The process to connect your handy device with your television is not difficult. You only need to consider some points in your mind. For your ease, we have enlisted those points here in the following sections.
Use Converter
If you have seen AV cables, you must be wondering how to connect AV cable with a mobile phone. It is because there is no port available with such size through which you can connect your device with this cable.
All the ports available on our phones are smaller than the AV cable connecting point. In this way, you need extra equipment named Mobile High-definition cable that can accomplish this task. By using this cable, you can convert your mobile's charging port feasible to be a connection with an AV cable.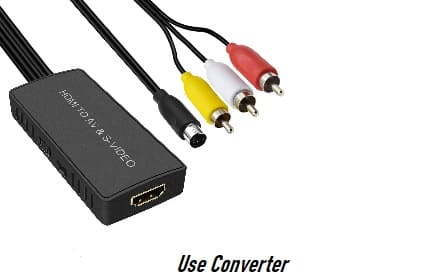 Don't get confused because it is common to have a blurred concept of this point. An MHL cable has two points one with a larger size to connect with the AV cable while the second just according to the charging spot. So, you only have to utilize both points and connect your mobile with an AV cable properly.
Connect Phone to TV
Now, you need to check another side of the AV cable and look for the ports at the back of your TV. If you are using an old-fashioned TV or traditional TV, you should need to get some extra types of equipment. The list of those equipment depends on the body style of your device.
But normally, you will find ports at the back of your TV in almost all modern models. So, you only have to insert AV cable connection points properly. After doing this, you will get a few options on your TV screen from which you have to choose the one.
By choosing one of those options, you will be able to connect your mobile phone to the TV for that specific person. Now, you must know that it is not difficult to learn how to connect phone to TV using AV cable.
What if My TV is Not Giving Display Properly?
Sometimes, you may not be getting any display on your screen and look nervous. It is common to get panic in such conditions and ask for some technician to solve this issue. Don't waste your time and money in this regard because you should need to check the connections first.
First of all, you should make sure that you are using the right set of MHL cables that are supported by your phone. It happens when we choose cables carelessly and connect them with our phones. In turn, we may be getting some problems while connecting our phones using that MHL.
Secondly, you need to choose the option wisely when shown on your screen. If you have chosen the wrong option, it will not let you get displayed on your screen. In this way, you can disconnect your devices and connect them again with great care.
Thirdly, you should make sure that all the ports are cleaned properly while making a connection. Mostly, we don't care about this factor and it will not let our cables make proper grip inside the ports. In turn, you may be getting fluctuation during the display or the connection might be interrupted again and again.
Final Conclusion
By reading the above guide, you have got an idea about how to connect the phone to TV using AV cable. You can follow these steps because we have written the simplest guide. Every person without any technical knowledge of the field can follow these steps and get the task done.
Hope you have a good day!
I am Muhammad Usama, a passionate SEO Writer and Copywriter working in this field for 7 years. During this duration, I have worked for various customers throughout the globe by securing them from different freelance platforms including Fiverr and Upwork. I have also built a few online assets including websites like Techforevers.com.
You can contact me for quality SEO Writing and Copywriting services to boost your website's authority or brand's visibility in the market. I will be happy to serve you with my quality writing services at affordable prices with uniqueness, authenticity, and quality guarantee. Let me help you grow your digital asset and give you strong feet on the ground.
Regards,