Social media has become a common activity for this generation. In this time of the internet, we can't even think of living without keeping look at the different activities of the people. Instagram is one of the most used applications in this regard. When it comes to socializing your life, you should also keep something private like your messages. This is where you should learn how to hide IG messages from others.
It has been seen that people are getting insecure because there is no way to hide messages on Instagram. The reason is like all other social media channels, it allows the users to access their chat box with a single click. Due to this, there is no built-in option available to hide chats from your Instagram chat box.
But it can be done using a few steps and actions for which we have written this blog. By the end, you will be able to know all those messages through which you can hide IG messages or chats.
How To Hide IG Messages?
As we have mentioned that there is no way to get your chats hidden on Instagram. The question comes of how to hide IG messages even by bypassing the system and keeping our private communication away from others.
To do this task, you have to utilize various options of the application smoothly. If you will not do this properly, you may delete the chat instead of hiding it. Additionally, you should need to take care and first check these methods on useless chats. In turn, it will be easy for you to get surety whether you are following the steps right or not.
3 Ways To Hide Messages on Instagram 
It does not matter what is your query that you are going to search on the internet. You will get hundreds of apps and methods to get your task done. How to hide IG messages is one of those questions that have only a few answers available there.
So, we have enlisted only those methods that will work for you and help you in hiding IG messages. Let's get started and check the following methods to do this.
Using Vanish Mode 
You can say that this is the built-in function or option that works like a hiding chat button. By using it, you will be able to hide messages from a specific chat. You can say that it will remove all your messages from the chat box.
It is an advanced feature offered by the application to chat in incognito mode. If you have used this mode of Google, you might have seen that it will not collect information like passwords, search history, and others.
The vanish mode works in the same manner and allows you to communicate with anyone just like this. If you have turned on this mode, you can chat normally like you have been doing before. But your messages will be removed just after being checked by the receiver.
So, you can say that vanish mode enables you to create a secure connection between you and your friends. Also, you don't have the threat of being detected or checked by anyone else. Here are the steps that you need to follow to turn on vanish mode.
Open your Instagram app using your mobile
Go to chats by tapping on the messenger icon in the upper right corner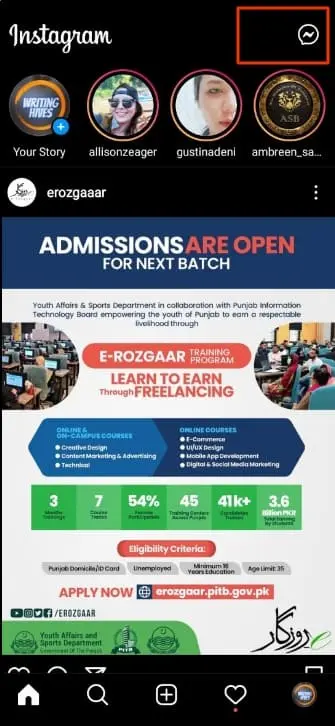 Open the chat that you want to be in this mode
Swipe up to turn on the chat mode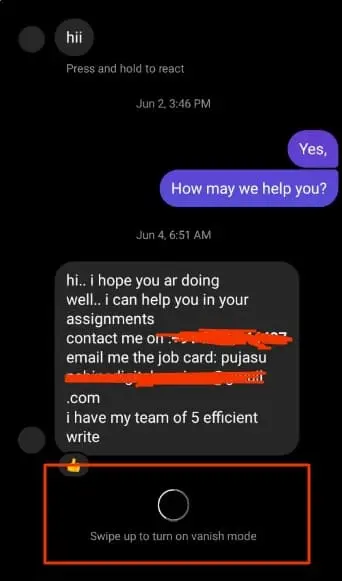 If you are unable to turn on this mode using this channel, you can adopt another way. Follow these steps to accomplish this task.
Go to chat that you want to be in this mode
Tap on the profile picture given in the top menu bar
Check for the vanish mode button given there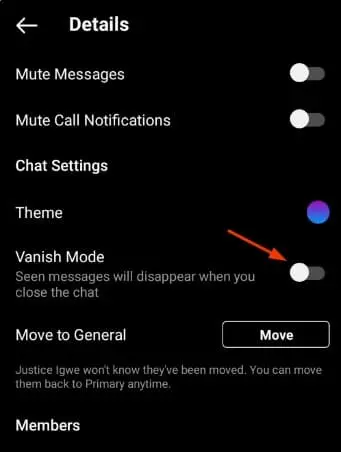 Toggle on the button given in front of that option
Keep in mind that this mode will not let you keep all messages you are sending or receiving. In short, you can say that there will be no record that you have talked to that person. If you want to turn off the vanish mode, you need to reverse the above steps.
It will turn on the normal mode of your Instagram chat. Additionally, you have to do this process one by one if you want to vanish chats of different message boxes.
Using Business Account Settings 
Normally, we are using an Instagram account for a personal purpose like scrolling, enjoyment, and chatting. In all such conditions, we create a normal account instead of creating a business account.
Do you know a business account has advanced features as compared to a normal one? It allows the users to get hands-on with different sections like audience analysis, multiple chat boxes, and others.
If you want to get your chats hidden, it can be done using your business account. To convert your general account into a business account and hide chats, you need to follow these steps.
Go to your Instagram account or application
Tap on your picture given in the bottom right corner
Click on the three lines given in the upper right corner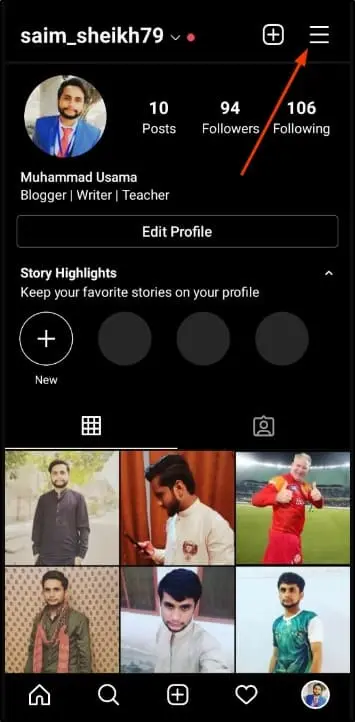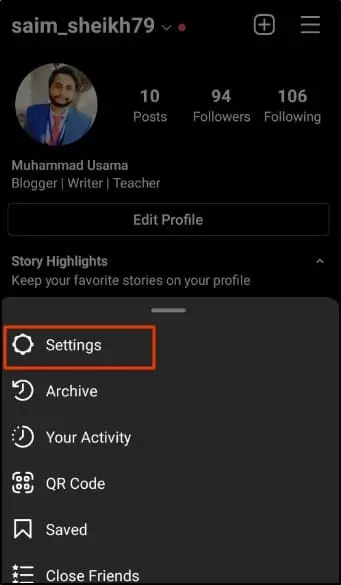 Check for account settings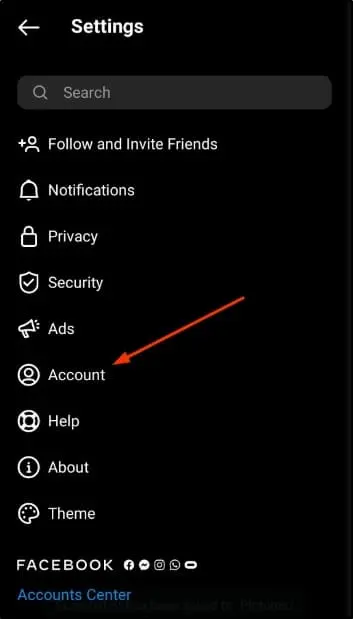 Tap on that option
Scroll down to check for Switch to Professional Account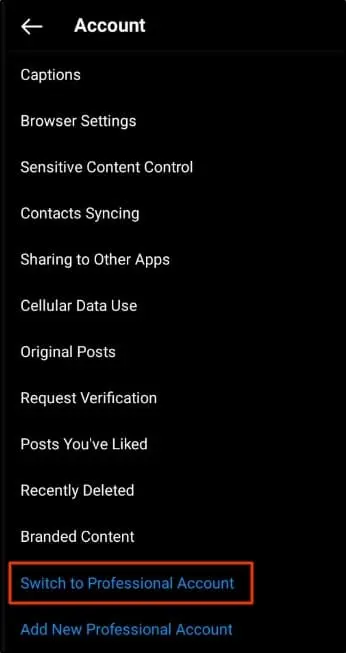 Confirm it if asked
Now, open the chats of your account
Press long the chat you want to hide
Choose the Move to the general option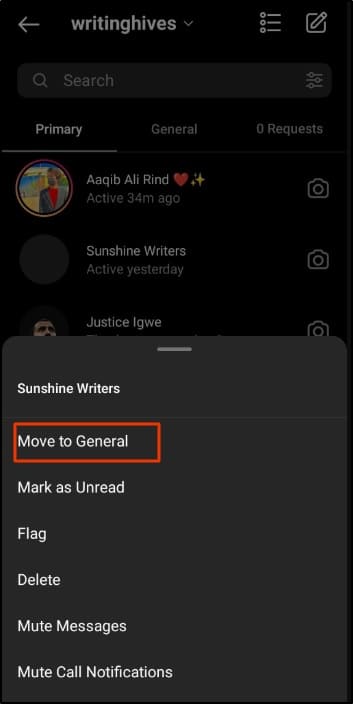 Turn back to the personal or normal account
Check the chat box, your selected chat will be hidden from there
If you want to get your chat back or want to access it to read it, you need to reverse the above steps. Here we have enlisted those steps that you need to follow in this regard.
Switch to a business account
Go to chats
Tap on the general chat button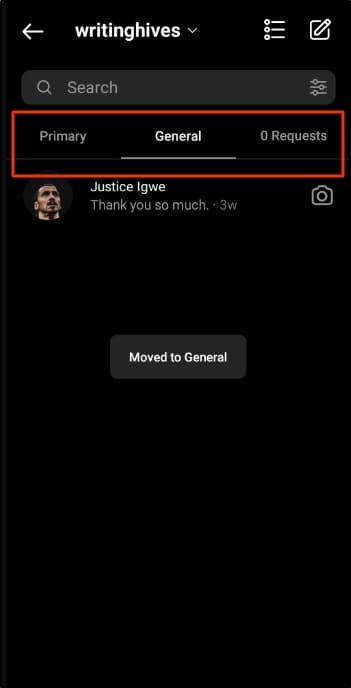 Click on the Move to the primary option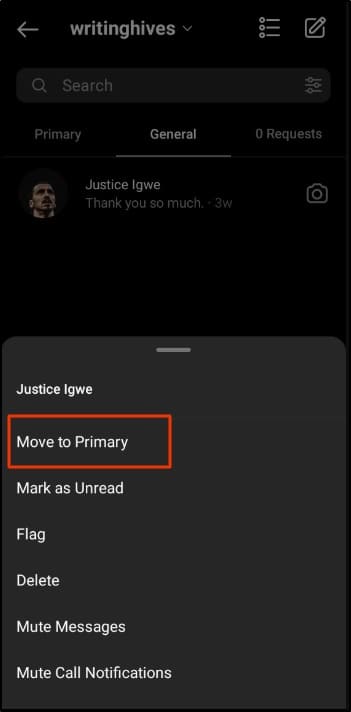 Your chat will be shown again among other chat boxes
Through Locker Application 
If you still finding it hard to hide chats from the IG chat box, it is time to check for a locker application. Here we have a locker for the Instagram application. You can follow the upcoming steps to download it, install it, and hide your desired chats from its box.
(Above link is for images of this section)
Search for a "locker for insta social" on the Google Play or App store
Download the application
Open it on your phone
Set your 4-digit password
Setup recovery email for any accidental condition
Enable accessibility if asked
Check for the "+" icon and tap on it
It will open the Instagram application
Go to messages and choose the particular chat you want to lock
After adding it, turn off the application for a while
It will lock the chat inside the locker to open which you have to enter a 4-digit password every time
FAQs
Can I Hide Chat on Instagram?
There is no built-in option given on Instagram that can let you hide chats. But you can use its vanish mode to hide chats on Instagram.
Will The Chat Data Be Removed Once Locked?
No, if you are using an application to do this, it will not be removed. In case of vanish mode, it will be removed from the chat box from your side as well as your receiver's side.
Is Deleting Chat And Hiding it The Same?
No, deleting chat will remove the entire data. But hiding a chat means you can access it any time whenever you are looking to explore it.
How To Unhide The Chats on Instagram?
It depends on the process that you have followed from the above list of 3 ways to hide IG messages. You only need to reverse the process to unhide the chats or messages.
Will it Be Okay To Use a Locker For The Instagram App To Hide Chat?
If you are using the above-mentioned application, it might be okay. But we don't recommend using any third-party application if you have private data in your chat box.
Is There Any Built-in Chat Hiding Option?
No, there is no built-in option offered by Instagram to hide IG messages. You have to adopt any of the above methods if you want to hide your messages or chats.
Final Wrapped 
In the above guide, we have discussed the process of how to hide IG messages using 3 different ways. You should adopt any of these methods as per your requirements and ease to get your chat hidden or locked. It will enable you to create a boundary around your privacy that can't be disclosed by anyone.
Hope you have a good day!
I am Muhammad Usama, a passionate SEO Writer and Copywriter working in this field for 7 years. During this duration, I have worked for various customers throughout the globe by securing them from different freelance platforms including Fiverr and Upwork. I have also built a few online assets including websites like Techforevers.com.
You can contact me for quality SEO Writing and Copywriting services to boost your website's authority or brand's visibility in the market. I will be happy to serve you with my quality writing services at affordable prices with uniqueness, authenticity, and quality guarantee. Let me help you grow your digital asset and give you strong feet on the ground.
Regards,