Hiring a team remotely is getting common in the world. It is because this type of hiring will reduce the budget and let you get more fruitful outcomes. But hiring a team blindly is not a good habit because it can harm your business.
The process becomes harder when you have to hire an offshore mobile app development agency or team. Are you struggling with the hiring process? If you are, this blog will help you in this regard and let you choose the best team for your projects.
What is offshore Mobile Development?
Offshore means to hire from any other country for different purposes like tax saving or something like this. Offshore mobile app development means hiring a team of professionals or employers who are living abroad.
In simple words, it is said to hire people remotely without giving them a particular space to sit and work in front of you. It is up to your business whether you need to specify their space or not to work from there.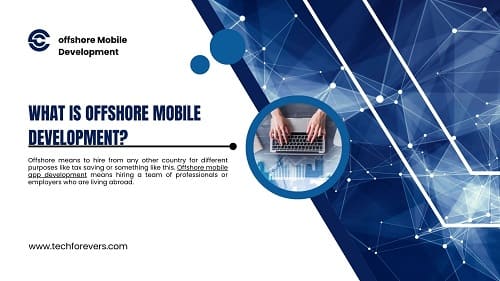 By hiring employers or teams remotely, you will be able to save a lot of budget and investment. You can also keep proper track of the team's performance to improve it timely. Also, it is better to hire developers from a particular country to design apps for those particular regions.
As a result, your company will be able to design something that is demanded by the people of those regions.
How to Hire Offshore Mobile Developers?
When it comes to hiring the best offshore mobile app development company, you need to be proactive. The reason is you are going to hire employers who will not remain in front of you. But they will work from their concerned regions where you can't keep an eye all the time.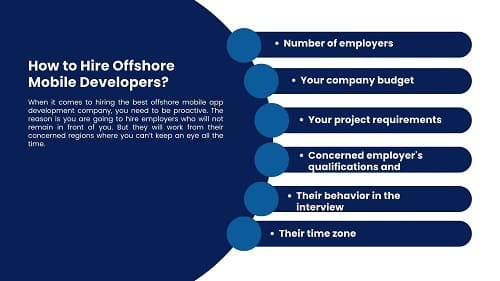 Here we are going to enlist some of the most important steps that you have to consider while hiring.
Number of employers
Your company budget
Your project requirements
Concerned employer's qualifications and experience
Their behavior in the interview
Their time zone
With the evaluation of these factors, you can hire the best offshore agency for your mobile development project. You will also feel it is pretty simple to hire and fire people through your HR department if you have it for this purpose.
10 Best Destinations to Choose offshore Developers
Offshore agencies are not affordable from all the spaces because of the tax involvement of their countries. It has been seen that many companies hire regional employers instead of hiring offshore talent because of high budget requirements.
In the following list, we have wrapped out the best 10 countries from where you can hire offshore app development agencies.
India
China
Philippines
Vietnam
Poland
Romania
Ukraine
Bulgaria
Argentina
Brazil
These countries have affordable packages to offer for such services. The main reason is that they are implanting minimum taxes in this field. Therefore, the prices of their services automatically go down and become affordable for all people or companies of all levels.
Final Words
In the above guide, we have shared comprehensively an overview of hiring of offshore mobile app development agencies. You can easily pick an agency for your concerned process by following the above-mentioned factors. Along with this, we have enlisted the countries from where you can hire such services by investing a little in this dimension.
My name is Hassan, an SEO Expert having field experience of more than 10 years. During my career, I have helped multiple businesses in getting a strong position in SERP results with my optimization techniques as well as have built my websites too. With my SEO expertise, we have grown this website to make it visible for people in search engines.
Let me help you grow your business too by connecting via LinkedIn.