Google Drive has become the best way to share data or download any files even if these were shared with you. Sometimes, you will get issues like Google drive won't download files or restrict your access even if the owner has granted you permissions.
If you are looking for a solution to such conditions, you should read the following sections. Here we will show you how you can get rid of these issues and download any file directly from Google drive.
How To Download A File From Google Drive?
It happens a lot when you do not know about the process of downloading files from Google drive. First of all, you have to make sure that you are following the right method. It depends on the device you are using that which interface you will get to download a file into the internal storage.
For instance, you have to right-click on any file if you are using your computer to do this task. Similarly, you have to look for the mobile screen to check the three dots from where you will get a download button in the dropdown menu.
You only have to make sure that the process you are following is right. If you are facing such problems too even after this analysis, you have to check for the solution from the following list.
Restart Computer or Browser
First of all, you should try restarting the browser or computer. Sometimes, the internet connection to your device might be interrupted which makes Google drive won't download any file. Also, it might be possible that all the features of this program are not settled properly.
Therefore, you should restart the computer or browser (at least) to let the program all the functions properly set up. There are most chances that you will get your problem resolved with this method.
Check For Cookies
Another common problem that makes the Google drive files restricted to download is cookies settings. Whenever you browse a website, it will ask you to allow cookies for proper working. You might have denied the access accidentally when browsing Google drive.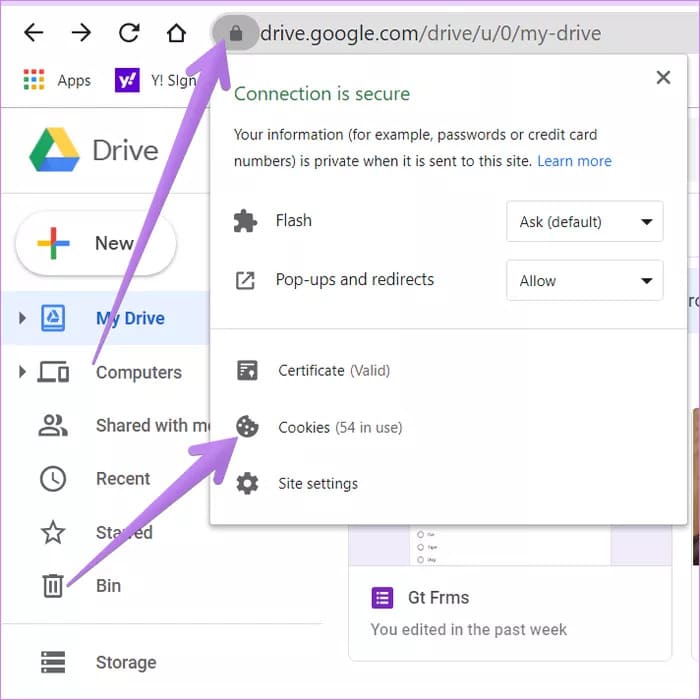 To check this, you have to open the settings of your browser and search for cookies settings. You will get a list of apps or programs for which you have allowed cookies. In addition to this, you can also click on the "lock" button that will be available just beside the URL in the search bar.
By clicking on that, you will directly reach the section from where you can estimate either the cookies are allowed or not. This is the easiest way to analyze this section and allow cookies to resolve this problem.
Remove All Additional Google Accounts
If Google drive won't download files even after using the above methods, you have to check the Google accounts. Sometimes, you have logged into multiple accounts that will create problems in downloading files.
It happens when you are using different accounts without making them users. Whenever you will click on the file to download, it will redirect you to the other account where it might be restricted to download.
In such conditions, you have to remove all the Google accounts that you have logged into under the same user. If you have to use multiple accounts, you can create a separate user for all of them. This will be the perfect way to avoid this condition even in the future.
Switch To Another Browser
Most people like us do not look for any update if it is available in the browser that we are using. For instance, we keep using Google chrome without checking for updates and it will become old-dated after some time.
In such browsers, you will find problems like Google drive won't download, complete refreshing, or many others. So, you must have to switch to another browser first and try to download that file there. If it starts downloading, you should check for updates in your original browser.
You can also switch to the new browser if you feel it feasible to do. Another way to test your browser is by getting the file open in the incognito window. With any of these methods, you will be able to solve this problem and download any file from Google drive.
Check For Permissions
If none of the methods is working for you, it might be possible that the user has restricted your access. Therefore, you have to ask the sender and tell him to change the permissions of the file to anyone. In this way, all the restrictions will be removed from that file and you can easily download it on your computer.
Final Verdict
Google Drive won't download any files has become a common problem for many people. You must follow the above methods that will enable you to get the precise and perfect solution. The only thing you have to keep in mind that is you are using the right method as per your device's nature or layout.
My name is Hassan, an SEO Expert having field experience of more than 10 years. During my career, I have helped multiple businesses in getting a strong position in SERP results with my optimization techniques as well as have built my websites too. With my SEO expertise, we have grown this website to make it visible for people in search engines.
Let me help you grow your business too by connecting via LinkedIn.