While creating a LinkedIn profile, you will be asked to provide ample of information. It is right to say that this platform will have enough information to tell someone about your entire life. Isn't it a threatening factor for LinkedIn users?
Are you a guy who is privacy concerns a lot? You should check out your profile and hide details that are not necessary for others to know. For example, you should learn how to hide birthday on LinkedIn and make it invisible from your profile.
Similarly, you can find how to hide other sections of your profile for keeping yourself safe. Keep in mind that you shouldn't hide those sections that are necessary for others to see. For example, you should keep projects on LinkedIn visible to recruiters.
In this blog, we are going to show you how to hide birthday from your LinkedIn profile as it is useless for recruiters. Let's get started!
Why Do You Need to Hide Birthday on LinkedIn?
Before you learn how to hide such basic details, it is important to know why you need to do so. The reason is you will have a clear idea of whether you should remove it or keep it visible to others.
First of all, the main concern to hide birthday and other basic details is privacy. Not everyone wants to expose their basic details like a phone number, birthday, and others to everyone on social media. It is because they want to keep some details hidden in terms of the privacy of their data.
That's why, many people don't show their birthdays to users on social media. Another reason is that people don't want strangers to interfere in their lives. For this purpose, they want to keep them away from their details.
When you have shared your birthday on LinkedIn, it might be possible that you are getting wishes on this day. No doubt, you may enjoy reading those wishes but not everyone does so. It might be irritating for someone to read them and invest time in replying to them.
Such people just go to their profile hide their birthday on LinkedIn and keep relaxing on this day. In turn, they will enjoy their moments instead of getting disturbance by their special events. Due to these reasons and a few others, many LinkedIn users keep their birthdays hidden from other users.
How To Hide Birthday on LinkedIn?
By reading the above sections, you have learned about those factors due to why you need to hide basic details from LinkedIn. Now, we are going to show you how to hide birthday on LinkedIn step-by-step.
Click on your display picture given in the top menu in the right section

Tap on the "View Profile"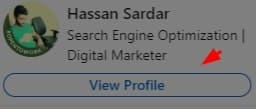 On the profile page, you will see an option named "Contact Details"

Click on that option
It will show you email, number, date of birth, and other details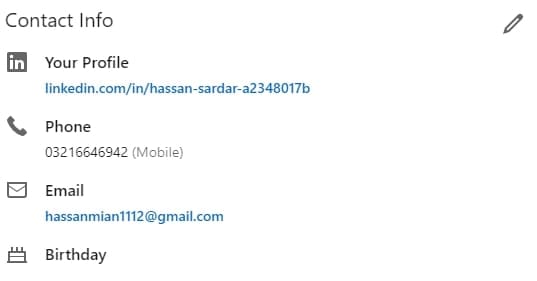 Go to the section where your birthday is mentioned

Just below that section, you will see a visibility option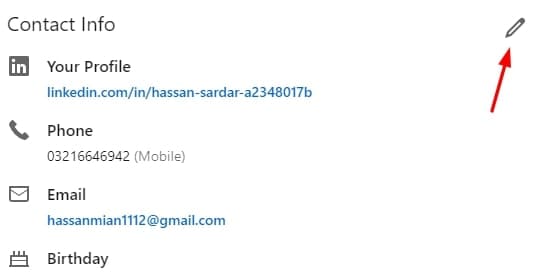 It will be set as "Your Connections" by default
By clicking on that, you will see a dropdown menu
Tap on "Only You" to hide it from everyone

By choosing the "Only You" option, you will make it invisible to everyone. Neither your friends nor any other person on LinkedIn will be able to see your birthday. You can set its visibility at any time using the same procedure.
To change the visibility of any basic detail from your LinkedIn profile can be done similarly. Some changes need other sections to access like when you have to change connecting on LinkedIn to following.
Is Hiding Birthday Good for LinkedIn Profile Optimization?
Before making anything visible or hidden on the platforms like LinkedIn, you should understand their benefits and drawbacks. It is because you will find it easy to decide whether you should keep that section visible or not.
Shortly, we can say that hiding your birthday doesn't have any harmful impact on your LinkedIn profile. It is because you might be using this platform for working. A recruiter or company doesn't have any concerns with your date of birth.
They only want you to be qualified and proficient for their specific tasks. So, you have to provide those details that they need to decide why you are the best for their company. For example, if you are looking for an internship on LinkedIn, you should optimize your profile for that task.
In simple words, you have to share your past projects (if done), qualifications, and other related details. These details will help you to stand out from the crowd. But it won't affect your profile's optimization or ranking if you have a hidden birthday from your profile.
Final Wrapping
In the above blog, we have shown how to hide birthday on LinkedIn step-by-step. You must have got a clear idea about this topic by reading our guide. These steps have been performed first and then written for your clear understanding.
Hope you have a good day!
I am Muhammad Usama, a passionate SEO Writer and Copywriter working in this field for 7 years. During this duration, I have worked for various customers throughout the globe by securing them from different freelance platforms including Fiverr and Upwork. I have also built a few online assets including websites like Techforevers.com.
You can contact me for quality SEO Writing and Copywriting services to boost your website's authority or brand's visibility in the market. I will be happy to serve you with my quality writing services at affordable prices with uniqueness, authenticity, and quality guarantee. Let me help you grow your digital asset and give you strong feet on the ground.
Regards,