It is not wrong to say that Kahoot is one of the most used fun-learning online platforms. This platform isn't only used by teachers but students also prefer to browse it for learning. The reason is they want to have fun while learning something on the internet.
For many teachers, it is hard to keep their students intact and restrict them from cheating on Kahoot! In this regard, they search for quick and advanced ways like presentation-type Kahoot quizzes. The most common question that is asked in this regard is how to put a Kahoot link on Google Slides.
It is because this is the easiest and quickest approach to add the entire quiz on slides without manual effort. Are you one of those instructors who are looking for the step by step guide on this? You have landed on the right page and we are going to show you how you can do so.
Can We Add Kahoot on Google Slides?
The simplest answer is yes you can add a Kahoot quiz on Google Slides to present it to your students. It means that you can create a presentation and play a slideshow in front of your students. In turn, your efforts will be reduced as well as you will be able to keep an eye on every student.
Many students, while learning from Kahoot, perform different fun activities. The most common is sending a bot to a Kahoot game. In turn, the instructor can get irritated with such activities. To keep yourself safe in this regard, you can learn how to put a Kahoot link in Google Slides.
In turn, you will be able to put those slides on auto-playing mode and keep checking students as well. So, you will not need to worry about such funny and irritating activities done by any student in your class.
How To Put a Kahoot Link on Google Slides?
If we say that Kahoot offers the best way to put links to Google Slides, it will be right. The reason is you will neither need to follow multiple steps nor need to be a technical person. You will be able to add the entire quiz to slides in a few steps within minutes as you do in Quizizz.
Here we have enlisted a few steps that you have to follow to put the Kahoot link on Google Slides.
Go to the Kahoot game
Look for Create Quiz
Mostly, instructors just tap on "New Question" and add their statements
To import from Google Slides, tap on "Import Slides" given in the right bottom corner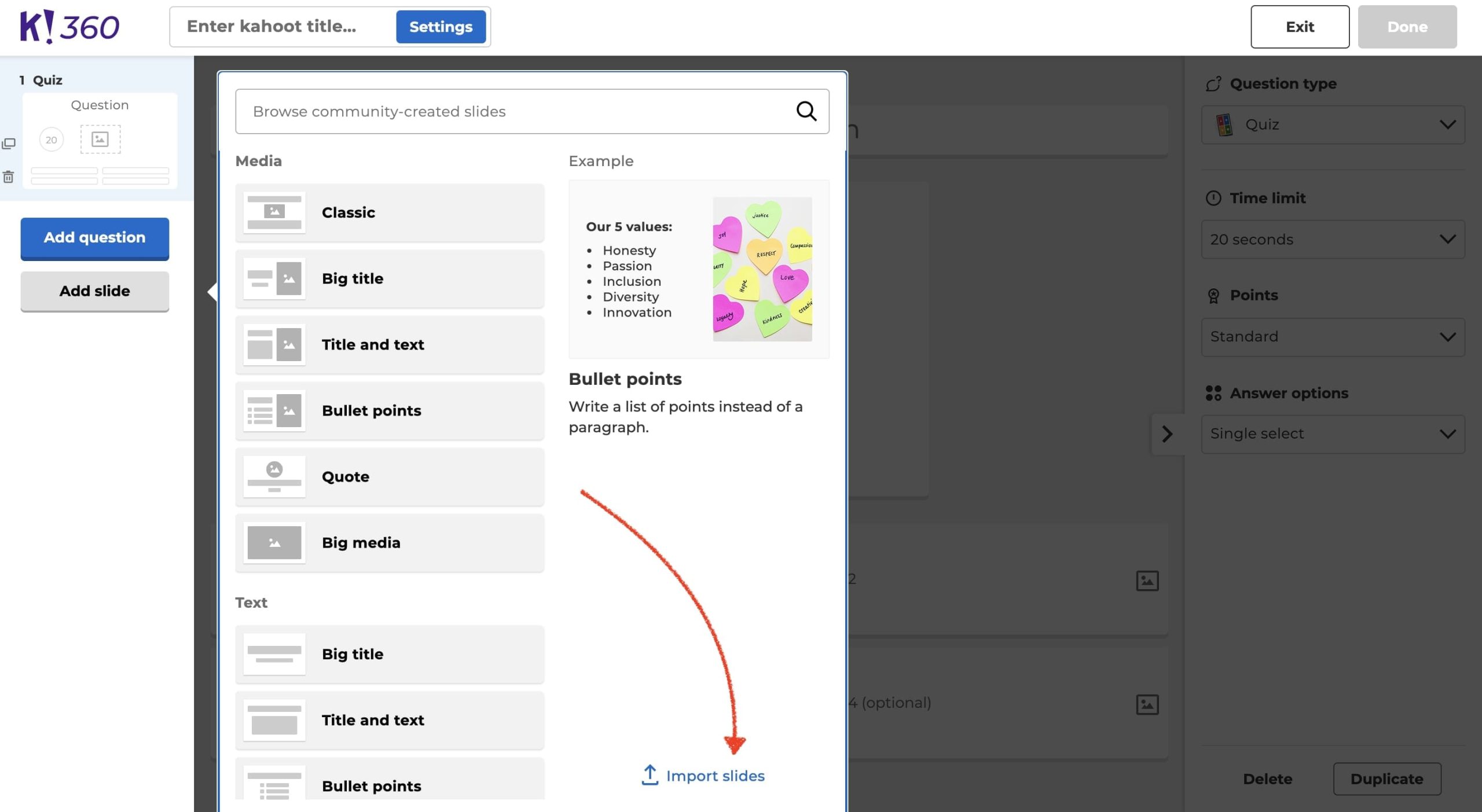 It will import your slides to a quiz that you can present to students without manual effort.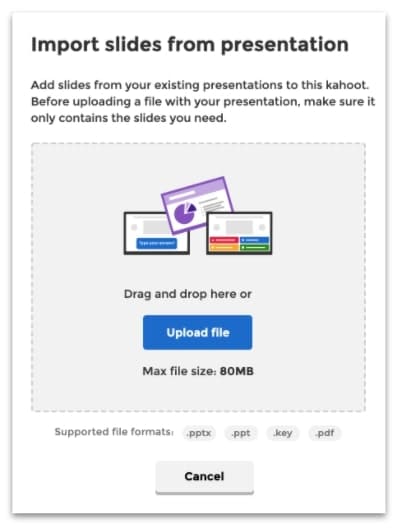 With these simple steps, you can add a Google Slides presentation to a Kahoot quiz. In turn, you will be able to add quizzes written on slides to Kahoot directly instead of dealing with its complex steps. Be mindful that your slides would only have a maximum of 1000 questions.
The reason is Kahoot doesn't support adding more than 100 questions in a single quiz. If your Google Slides have more questions than this, you will not be able to upload slides. In turn, you will either get a file error or a related one on your screen that restricts your performance.
Why it is Better to Add a Kahoot Link on Google Slides?
For many instructors, it is still a myth that they want to be clear about the interconnection between Kahoot and Google Slides. They often ask why it is better to go with Google Slides as compared to other presentation-making programs.
Undoubtedly, you can use PowerPoint or any other program for creating and importing slides to Kahoot. But Google Slides is recommended because of its responsive results. You can easily import slides from this program to your Kahoot quiz using a simple link.
It means that you only have to learn how to put a Kahoot link on Google Slides and the rest will be done automatically. So, you will not need to worry whether the font style and other formats are changed. You will see the same preview on the quiz screen that you have seen while creating a presentation on G-slides.
Final Wrapping
By reading the above blog, you must have got an idea of how to put a Kahoot link in Google Slides. We have shared steps that you need to take in this regard. It will be pretty simple for you to create a quiz in this fun-learning platform and make it visible to your students.
In short, it is right to say that tasks of hours can be done within minutes as you are dealing with ordinary features of G-slides. So, you won't have to deal with new options available in Kahoot to create a quiz for that.
My name is Hassan, an SEO Expert having field experience of more than 10 years. During my career, I have helped multiple businesses in getting a strong position in SERP results with my optimization techniques as well as have built my websites too. With my SEO expertise, we have grown this website to make it visible for people in search engines.
Let me help you grow your business too by connecting via LinkedIn.