It is a very common thought of a computer lover to use different computers in the same manner as he uses his own. An emulator is a special kind of software or hardware that enables the user to use the features of a specific computer on another one.
There are multiple emulators available in the market. Here we are going to discuss one of the best emulator programs for your computer.
What Is LD Player?
Among some very famous and useful emulators, LD Player is one of the best emulators with advanced virtualization technology to explore better outcomes. The most difficult milestone is to enjoy the features of an android device on the computer.
This program makes it very easy to use and enjoy the operating system of your android device on your computer. With the help of this, you can enjoy the visualization on a big screen without any interruption. Due to its normal size and amazing features, it is considered the best emulator for windows.
A Chinese software company has designed this emulator and launched it for users from the entire world. Many gamers stop playing games because they do have not enough powerful android devices to run them perfectly. In this condition, LD Player enables them to connect their operating system with their large desktop and enjoy them without irritation.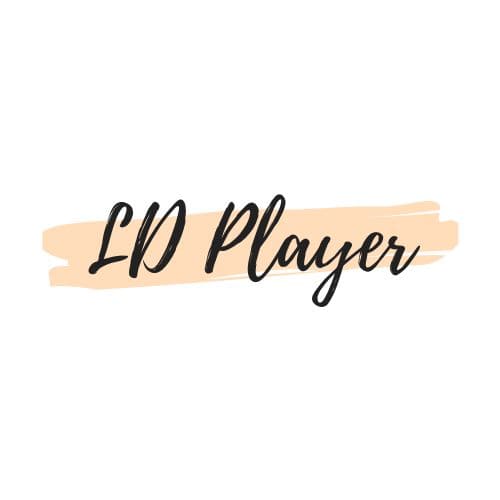 Many emulators have spyware or unlimited ads that also restrict users to use them. But this valuable program has finely resolved both these issues. It does not show too many ads with which a user is fed up. Also, it is safe to use because there is no computer security threat like malware or spyware.
In short, you will find LD Player the best while comparing its features with other emulators available in the market. In every section including performance, speed, and many others, this emulator will admire you and provide you with perfect outcomes.
Method To Download LD Player And System Requirements
Many people feel it very difficult to visit the search engines for the process of LD Player download. It is not a difficult process if you follow it in a step-by-step manner without any fluctuation. Before going to search engines, you must have to know the LD Player system requirements section.
LD Player is the best emulator because it does not support all formats or system properties. There are specific properties your system must have to access and run this emulator.
LD Player System Requirements
Intel or AMD CPU Processor x86 / x86_64.
Minimum 4GB of system memory (RAM)
Minimum 36GB of free hard disk space.
Windows DirectX 11 / Graphics driver with OpenGL 2.0.
Windows XP XP3 / Win7 / Win8 / Win8.1 / Win10.
Hardware Virtualization Technology (Intel VT-x/AMD-V) enabled in BIOS.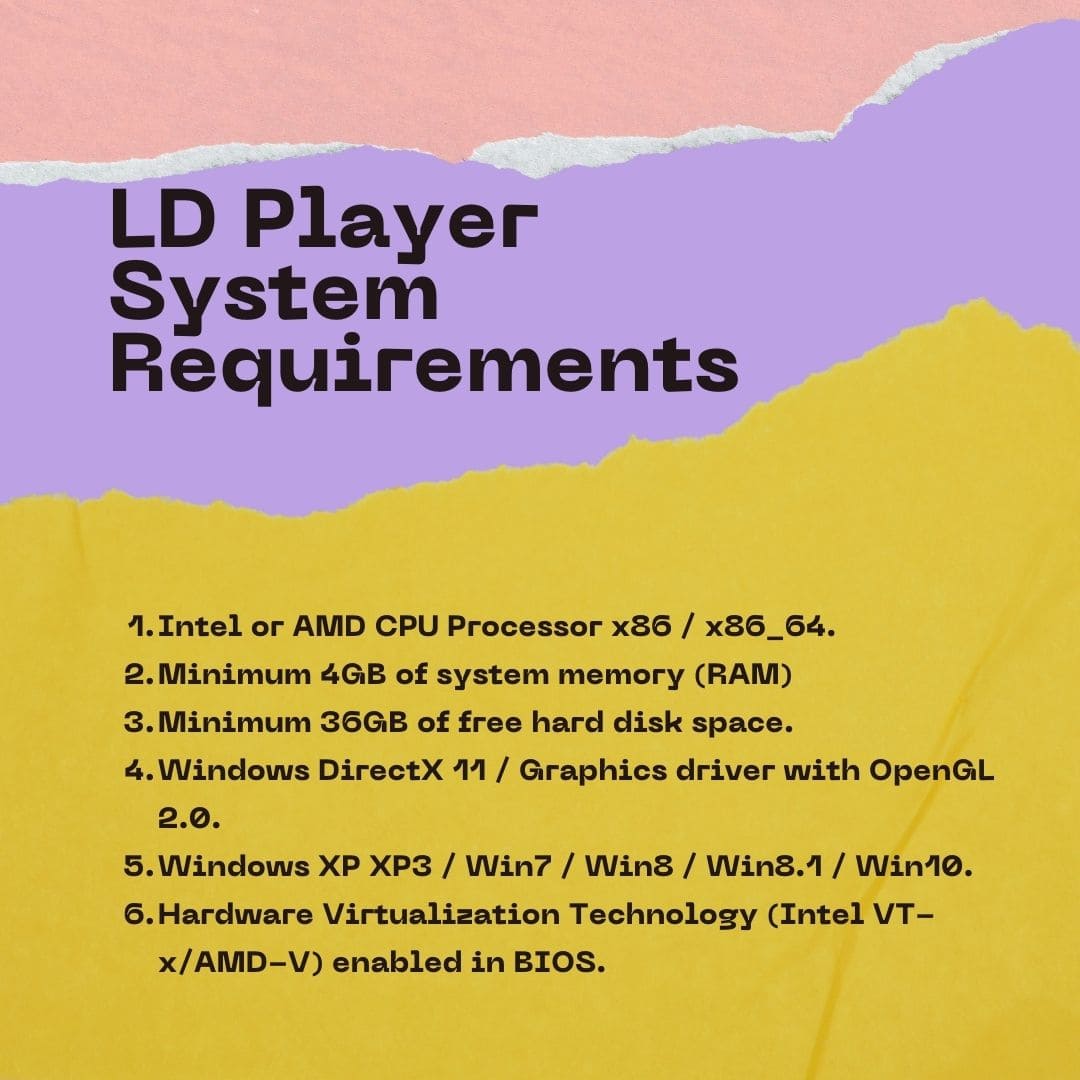 LD Player Minimum System Requirements
Operating System: Windows 10, Windows 8, Windows 8.1, Windows 7
RAM: 2GB of system memory (RAM)
Processor: Intel Core2Duo Processor with 2,9Ghz or AMD with equivalent speed.
GPU: Required Windows DirectX 11 or Graphic driver with OpenGL 2.0
HDD: Minimum 2GB free space
LD Player Recommended System Requirement
Operating System: Windows 10, Windows 8, Windows 8.1, Windows 7
Processor: Intel i3 Processor with 3,3Ghz or AMD with equivalent speed.
RAM: 4GB of system memory (RAM)
HDD: Minimum 10GB free space
GPU: Required Windows DirectX 11 or Graphic driver with OpenGL 2.0
It requires at least 4GB RAM along with 36GB free storage on a hard disk in your computer for effective working. Also, the system must support a Graphic card for proper visualization of game graphics on the large screen.
It supports all the versions of Windows XP and runs in any of them without any problem. In the last, your hardware should be powerful enough to visualize the characters with good hardware. All these LD Player system requirements enable you to run this emulator easily.
Method To Download
After getting the system requirements, you should visit a search engine for LD Player download for PC. By visiting the official website of this program, you can easily download it step by step without any cost.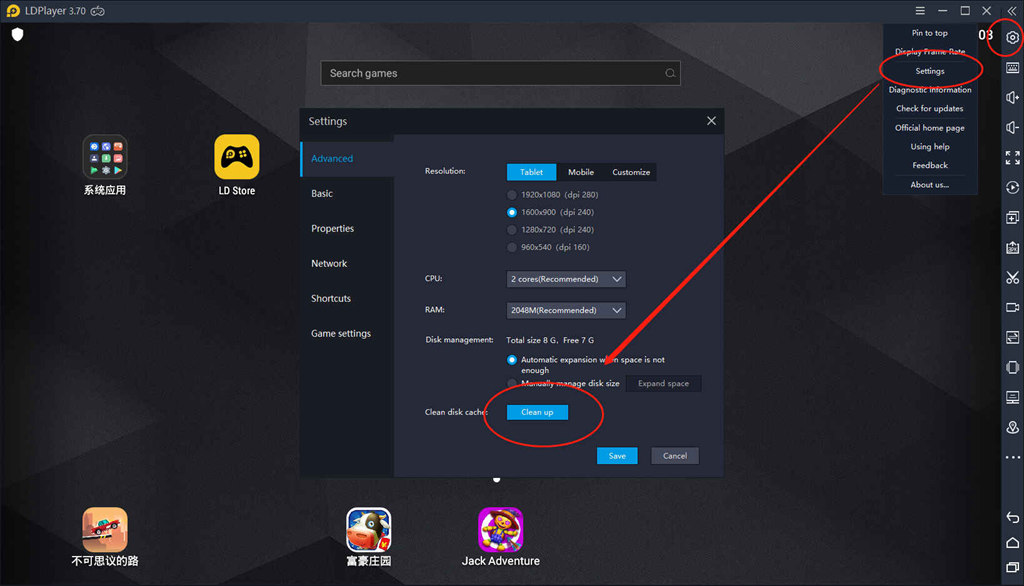 All the steps are well-described on this website and you just have to follow them without any extra steps. By following the above-mentioned steps, you can enjoy the best emulator for your pc free.
FAQs
How To Install XAPK In An LD Player?
When you have an LD Player stimulator, you should have to get some special programs like XAPK. You can easily download it from the internet to install an LD Player.
The installation process is very easy. You just have to drag and drop your file in LD Player after checking the version of the emulator. The program will automatically install this for your better work.
How To Download LD Player?
The process seems to be very difficult but it is a very easy process. You just have to visit the official website and follow the instructions given with every step to download the latest or old version of the LD Player according to your system requirements.
My name is Hassan, an SEO Expert having field experience of more than 10 years. During my career, I have helped multiple businesses in getting a strong position in SERP results with my optimization techniques as well as have built my websites too. With my SEO expertise, we have grown this website to make it visible for people in search engines.
Let me help you grow your business too by connecting via LinkedIn.