Before talking about Windows 10 requirements, let's have a look at Windows 10 and its features.
Windows 10
Windows 10 is the latest operating system, introduced by Microsoft. It is released in July 2015 for public use. It is released almost two years after the release of Windows 8.
After Windows 8, which is not liked by the users, Windows 10 covered all the complaints and suggestions given by the critics and users. Windows 10 is highly appreciated by critics all over the world.
Windows 10 Features:-
Windows 10 brought back many features that are lost in Windows 8. The best thing is it brought back the start menu to the traditional desktop that is disappeared in Windows 8.
Windows 10 also allows working in multiple virtual desktops at the same time. A user can jump from one window to the other easily which improves the efficiency of working. It made using all the needed features very smooth.
In Windows 10, you can have better and easy access to all the installed programs. Windows Store application is also combined with the traditional ones, so you can use both of them from now in Windows.
Windows 10 also introduced a new feature, Cortana, that allows a user to do some of his tasks by using his voice. It means you do not have to move at all. Just give instructions to your computer and it will work for you.
Windows 10 has many interesting and useful features as well. It is the best operating system so far.
Windows 10 Requirements:-
Before downloading Windows 10 to your PC, it is very important to check if your system is come up with the minimum requirements for Windows 10. Because if your system does not have these requirements, it will make trouble for you as it will slow down your system.
Here are the Windows 10 requirements for PC. check if your PC is able to install it or not.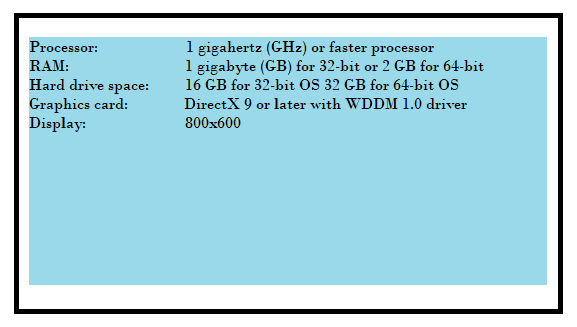 CPU:-
To install Windows 10, you need a 1 GHz or faster CPU.
RAM:-
The minimum RAM you must have is 1 GB 32-bit\ 2 GB 64-bit.
H.D.S:-
The minimum Hard Disk Space is 16 GB for 32-bit OS and 20 GB for 64-bit OS.
Graphics Card:-
The minimum Graphics Card required to install Windows 10 is Direct X 9 or later with a WDDM 1.0 driver.
Displays:-
To run Windows 10, your PC must have a display of 800 * 600.
The above are the minimum requirements for a PC to run Windows 10. If your has anything lower than these given parameters, you must upgrade your PC before installing Windows 10 on your PC.
A repeat these are the minimum requirements, to install and run Windows 10 properly, your PC at least fulfill these above details.
FAQ
What Are The Minimum Requirements For Windows 10?
To install and run Windows 10 properly on your PC, make sure your PC has:-
1 GHz or faster processor, 1 GB RAM for 32-bit or 2 GB RAM for 64-bit, a hard disk of 16 GB for 32-bit, or 20 GB for 64-bit, a display of 800*600, and a graphics card of Director X 9 or later with WDDM 1.0 driver. These all are the minimum and must requirements of a PC to install and run Windows 10 on it.
My name is Hassan, an SEO Expert having field experience of more than 10 years. During my career, I have helped multiple businesses in getting a strong position in SERP results with my optimization techniques as well as have built my websites too. With my SEO expertise, we have grown this website to make it visible for people in search engines.
Let me help you grow your business too by connecting via LinkedIn.