With innovations in technology, many innovations have taken place in our lives. We have changed the way to use our devices like computers, laptops, and mobile phones. One of the most common activities now is to use multiple monitors for the display.
It is an easy task to do so but many people ask how to set primary monitor windows 10. The process is pretty simple and you only have to follow some steps for this task. The core aim to write this article is to tell you about different methods with which you can set one of your monitors as the primary one.
Let's explore the following sections to understand this concept and its popularity reasons.
Why it Has Become Common To Use Multiple Monitors For Display?
Whenever you will see YouTube vlogs or videos, you will see that people are using different monitors for display. The first question is how they have done this and why they are doing this. In this section, we are going to tell you the reasons for multiple monitor's usages in the world.
There are multiple reasons due to which people are using multiple display devices to get even a single display for their work. Mostly, many users find it hard to get display the games on a single screen. It is because the games are now launched with higher resolutions and quality.
The second most important reason is that people want to make their work experience smooth. It is not an easy task to keep an eye on the previous activity of stocks using a single display screen. Yes, we are talking about the trading field.
If you have worked in this field for the long run, you can understand this statement. Without having a piece of proper information about the past activity of a trade or stock, you can't think to invest in it. The reason is that you will lose your valuable assets by investing in the wrong business.
These are a few reasons due to which people are moving toward multiple display devices. In the upcoming sections, we are going to show you how to set primary monitor windows 10 when you have different choices.
How To Set Primary Monitor Windows 10?
No doubt, it is an easy task to set multiple devices with the same operating system to get a single display. You only need to connect wires in the display ports to accomplish this task. But the problem comes when you have to set one of those devices as the primary one.
By using the following methods, you can do this task easily. You don't need to check for multiple YouTube videos to learn this because we are going to show you a list of easy-to-understand steps.
1. Using Settings
There is no hard and fast rule that you have to follow in this regard. You only have to make changes in the settings of your phone to set one of your display monitors as the primary one. Let's learn those steps that you have to follow in this regard.
Use the right click of your mouse and click on the desktop
Check for the Display settings option
Choose that section
Select the device that you want to set as the primary one
Check into the box named "Make this my main display"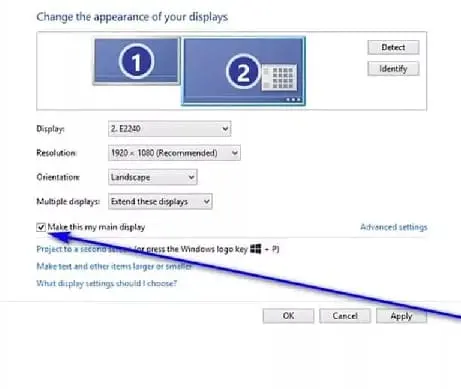 Save the settings and you are ready to go
These are the steps that you have to follow while looking to set your device as the primary one. It will then automatically turn on that device at the use it for display unless you have changed the settings or turned on the other devices.
2. Using NVIDIA Control Panel
If you are not finding any such settings as mentioned above, you can also use the control panel of your device. Here are those steps that you need to follow in this regard.
Go to NVIDIA Control Panel
Check for the display option in the left vertical bar
Browse that to find the multiple display buttons
Right-click there to open the settings
Select the display device you want to make primary
Click apply or save the settings
Confirm the settings if you are asked to do so
By following these simple steps, you can set your device as the primary one if you are using multiple devices. It will take a few minutes to set up the above settings and get your task done.
Is it Safe To Use a Third-Party Application For Dual Display?
The most common habit of many people is to download some programs, apps, or software to deal with multiple tasks related to their computer. No doubt, it might be compulsory to do this if there is no such option.
But we don't recommend you to use a third-party application for small tasks or functions. It is because you will give some permission to access your device or data. In turn, your data will be compromised and you may lose it or have to face issues.
So, you should first try to follow the manual settings related to any change in your device. But if you are not finding the solution, you can use a third-party application after getting an idea about its reliability or safety.
Can We Set The Secondary Monitor as The Primary One?
Yes, you can do this because there are no such settings that you can say irreversible with your device. You only need to follow the above steps and set the secondary device as the primary one within a few minutes. If you are not getting such a button, you need to uncheck the box first that you have checked before to set a monitor as your primary display device.
Final Thoughts
In the above guide, we have shown you how to set primary monitor windows 10 by following simple steps. You only need to follow those steps and change the settings of your device for a reliable experience while using different display devices.
Related: Windows 10 Requirements