In this digital era, it has become common to share documents over the internet. The conversion of format between the sender and receiver's document is the common problem in this sharing method. So, people are using PDF which is the most reliable way to share anything without changing the format. Are you worried about how to rotate PDF in Microsoft Edge?
No denying to the fact that Microsoft Edge is one of the most commonly used browsers to open PDFs. But it is good to learn the basics of this browser to understand how to rotate a PDF in Edge if you have it in a different shape. It will help you read the file and understand it. If you don't know about this process, keep reading.
We have covered this problem and written this complete guide for your assistance. Keep reading and you will get the complete answer regarding all the confusion related to this method. Let's try to explore this method and understand why Edge is being used by a lot of people.
What is Microsoft Edge?
Microsoft Edge is one of the oldest web browsers that a prominent number of users are using. Due to its multiple features and reliable working, it was the second most used search browser by Americans. A large number of internet users are using this search browser for different tasks.
Undoubtedly, Google is at the top of the list and gained the attention of a prominent number of users in recent years. But this browser still has the features to entertain people in different aspects. The most used feature of this tool is to open and view PDF files with a lot of options available for free.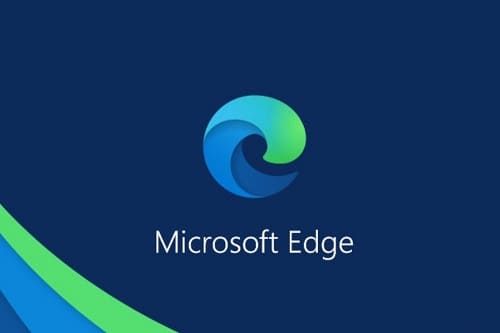 When you get a PDF file, you may look for a tool that will open the file and enable you to make changes to it. Mostly, people look for the Windows rotate PDF feature in their systems and end up with nothing. This limitation over the Windows built-in features makes Microsoft Edge a good pick to rotate PDFs and get them in the right pattern to read.
A lot of people search for online tools to accomplish their tasks but don't get good results because of limited features. Have you ever noticed that most tools are paid? It means you have to buy their subscription to make changes in your files and make them perfect for your use. But Microsoft Edge is offering all these options for free without charging its users.
It is not only used for opening or viewing the PDF file but for many other purposes. You only have to learn how to rotate in Microsoft Edge without damaging the quality. It will enable you to rotate any document including PDF, image, and other document formats that the browser supports. Here is a brief list of features that will show you why people prefer to use Microsoft Edge for PDF files instead of Chrome.
Why It Is Better To Use Microsoft Edge For PDF?
A lot of people have this question in their minds. They are confused because Google Chrome is the most used search browser on the internet all over the world. But why do people move to Microsoft Edge for this simple task? It is the main hurdle why people don't learn how to rotate PDF Microsoft Edge quickly in a few steps.
The reason is the availability of different functions that will enable the user to work properly in different dimensions. In the following sections, we have shared a few features that make this browser better for rotating PDFs without using any advanced features or a third-party application.
Changeable Page Layout
Once you will get a PDF file, you can open it using Edge with a simple click on the downloaded file. If it is opening in this browser, you can go to the control panel of your system and set this browser as the default to open PDF files.
In other browsers or free PDF viewer tools, you can only zoom in or zoom out to increase or decrease its view size. But with the Microsoft browser, you can change the entire page layout with a simple click. You don't have to open the settings for this simple task.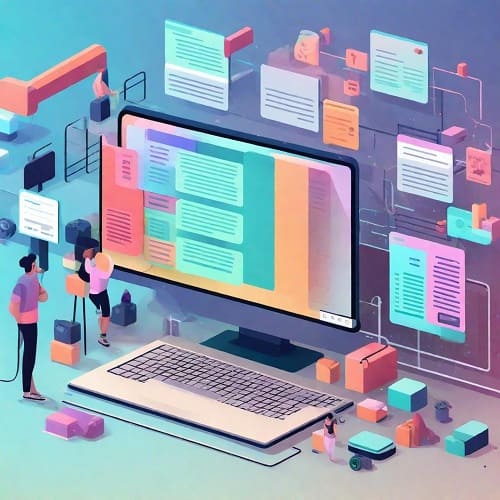 But you can do this using the upper menu bar of this search engine's browser. Here you will find an option by clicking which you will get a list of page layouts. You can select any of the available layouts to make the document perfect to view.
Read Aloud Feature
This is a unique feature that you will get only in Microsoft Edge regarding PDF files. Sometimes, the font size is smaller to look at and read it properly. In this way, you might not be able to understand the context written in that particular file.
Also, you might have to present that PDF file to your audience in a meeting. In all such conditions, you need a person who will pay complete attention and read the text. But you can do this with the Microsoft Edge PDF viewer tool with simple clicks.
After opening the file, you only have to click on the Read Aloud button that will be available in the upper section or the right sidebar. It depends on the version of this browser you are using on your device. By clicking on it, a built-in feature will get activated and the narrators start reading your document.
In this way, you can easily present your file as well as understand it properly.
Sharing of PDF Files
Another amazing feature of this browser for dealing with PDF files is sharing with other people. You won't have to download every PDF file after making changes to them. You can simply share them by right-clicking on your document.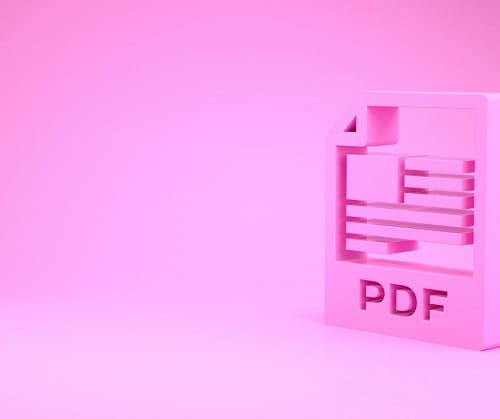 It will open a list of functions to choose from and implement action on your PDF file. In the bottom section, you will get an option named "Share". By clicking on this, you have to follow some steps and your document will be shared with the concerned person.
In this way, you can save your device storage as well as make your content sharable with others.
Add or Remove Notes
Many people get PDF files over the internet for their work purposes. They might have to tell the sender what mistakes he has made in the work by writing them manually in the file. With a standard PDF viewer, you can't perform this task easily as you have to follow multiple difficult steps. It is only possible when you have the best PDF converter or editor on your device.
In Microsoft Edge, you have to double-click on the draw button available in the upper toolbar. By clicking on it, you will get different functions like text writing, adding colors, drawing, and others. You only have to select your desired option and add the notes on any part of the PDF file.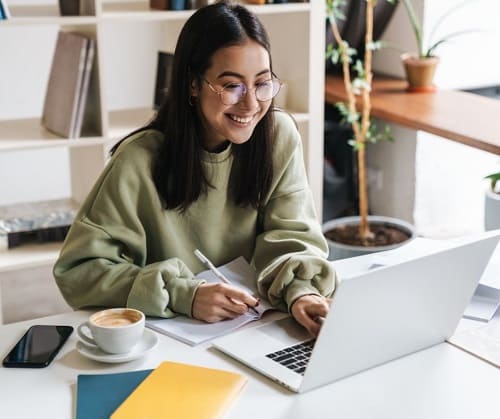 Also, you can remove the notes that already have been added to a particular document. The only thing you have to do is to go to that part of the file and double-click on the phrase.
It will open the dialogue box with the comment. Just click on edit and remove the text written in the comment section. With this, you can easily remove notes or add new ones for the receiver.
Now, you have read the important features of this tool. In the next section, you will learn how to rotate PDF in Microsoft Edge.
How To Rotate PDF in Microsoft Edge?
The process will not take as much time as you have experienced in other tools like Adobe Acrobat or others. You only have to follow these steps to rotate a PDF file in Microsoft Edge.
Open the file in "Microsoft Edge"
Check the upper toolbar and look for a "Rotate button"

Click on that button once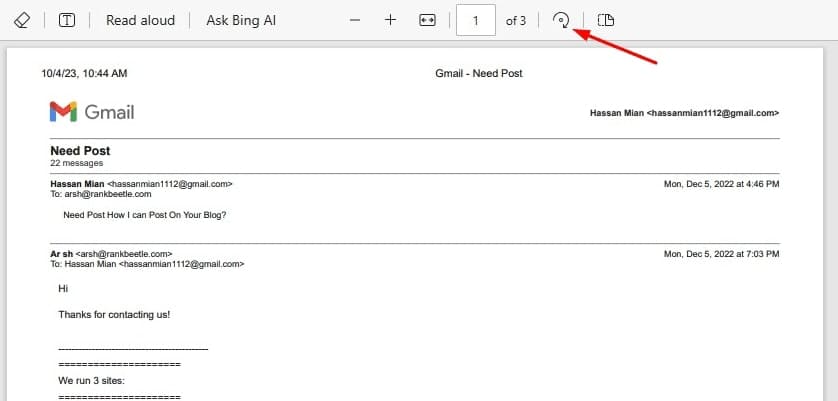 It will rotate your file at an angle of 90 degrees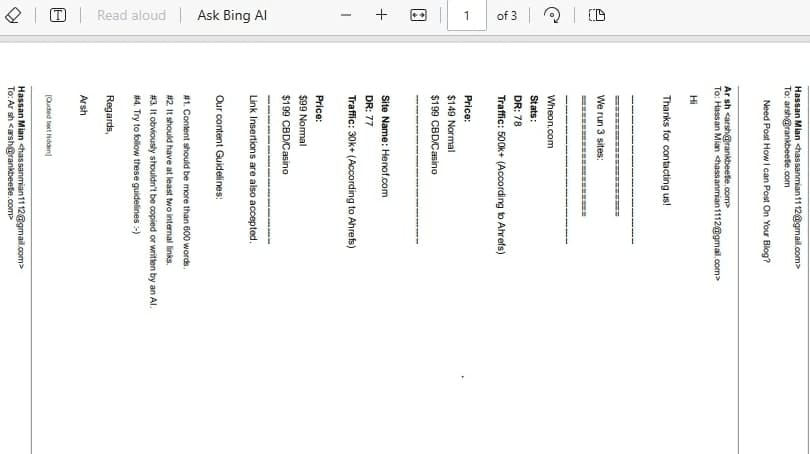 You can repeat the process to rotate the file more and more
In this way, you can easily use this tool for sharing PDFs, editing PDFs, rotating PDFs, and understanding PDF files.
FAQs
Is it Free To Use Microsoft Edge To View PDF Files?
It is a free tool that is given by Microsoft's search browser to all of its users. You won't need to pay or buy a tool for dealing with PDF files for different purposes.
Can I Edit The Entire PDF File With Edge?
Yes, you can edit the entire PDF document and make changes to it according to your requirements. The only thing you have to do is to follow some steps for this task and start editing your document.
Conclusion
By reading the above guide, you must have an idea of how to rotate PDF in Microsoft Edge. We have discussed the step-by-step method as well as the reason why you should use this browser instead of Chrome or any other. It is not a difficult task for you to understand how to rotate a PDF in internet explorer as the method is almost the same as that of Edge.
Now, it won't be a problem for you to get a PDF, rotate it, and use it easily without facing issues. You can quickly convert a PDF into your required pattern and have information that you are looking for.
My name is Hassan, an SEO Expert having field experience of more than 10 years. During my career, I have helped multiple businesses in getting a strong position in SERP results with my optimization techniques as well as have built my websites too. With my SEO expertise, we have grown this website to make it visible for people in search engines.
Let me help you grow your business too by connecting via LinkedIn.