Undoubtedly, KDP is one of the most browsed self-publishing platforms. It is used by millions of publishers throughout the world to let them publish their books for free. Whether you are already a part of those publishers' groups or looking to join, you should learn a few basic things.
For example, you need to learn how do I speak to someone at KDP? It is because you are going to feel the great importance of this procedure. If you don't know how to do so and looking for a solution, here I am with a complete guide.
I have performed everything on my own and going to share step by step-by-step procedures to do so. Let me show you how you can speak to someone to clear your doubts or have answers to queries.
Can You Speak to Someone at KDP?
The simplest answer is yes, you can speak to someone at KDP by following different methods. It is right to say that you will find it pretty simple to understand what is KDP and its different sections like contacting the team.
You only need to understand English or any other language supported by KDP to learn what notification is on your screen. If you are unable to understand, you are going to have a big problem.
It is because you don't get a translator to let them translate the message for you. So, you should be proficient in the language and everything will be in your control and on your computer's screen.
Why Do You Need to Speak to Someone at KDP?
Before learning the methods to contact someone at KDP, you should try to understand the reasons why you need to connect with someone. It will help you understand whether your issue is for customer support or someone else on the platform.
First of all, you may need to delete a book from KDP and look for permanent deletion. In turn, you need someone who can guide you with the procedure and manage the backend task. Simply, I can say that you need someone from customer support who remove the book from the shelf of KDP.
Another common reason that I have found in many cases is linking a bank account with KDP. I have seen many users struggling with this phase as they are unable to connect their bank accounts with their KDP accounts.
In the beginning days of my career, I also faced the same situation when trying to connect Payoneer with my KDP account. I picked the KDP forum where someone spoke to me and guided me on how to resolve a specific error.
So, you may need to get guidance while connecting Payoneer to KDP for payment processing. You can go with the forum discussion or ask customer support for the solution according to your wish.
5 Ways to Speak to Someone at KDP
When it comes to connecting with someone at KDP to learn about a specific query, you will find multiple ways. Amazon KDP is considered the best platform regarding customer support/satisfaction for publishers.
The best thing is you can make money on KDP without writing by hiring a ghostwriter. Abide by this discussion, you will find 5 different ways to contact someone via this platform. By reading these methods, you will never need to learn how do I speak to someone at KDP.
Let me show you how I have been doing so and you can also do the same.
1. Contact Us Section
The simplest way to connect with Amazon KDP support is through the Contact Us section. You can approach this section easily as I do. Here are the steps that I have been following for this and recommend you to go with the same.
Step 1. Go to your "Amazon KDP" account and look for the "Contact Us" button from the footer

Step 2. Choose an option from the list given below the "How can we help?" section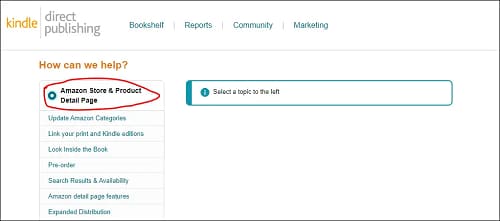 Step 3. Write your message in the popped-up box and click on "Add file" if needed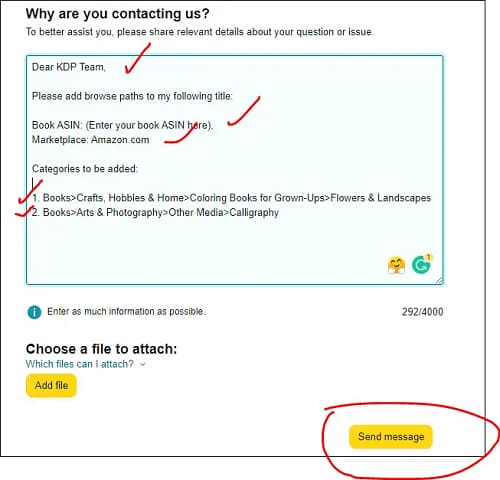 Step 4. Click on the "Send Message" button
It will be sent to customer support and you will be contacted via your registered email within a few hours. Be patient as it can take up to 24-48 hours depending on your submitted inquiry or error.
2. Via Email
As per my experience, it is the most effective way to contact customer support. But the problem is it takes a prominent time as compared to other ways. Anyhow, let me show you how to contact someone at KDP via Email.
Step 1. Go to your "Kindle" account
Step 2. Look for the "Account taxes and getting start" option and click on that
Step 3. Choose any option from the shown list and click on it
Step 4. On the right side of the page, you will see a section labeled "E-mail", click on the "Send us an e-mail" button
After doing so, you only have to write whatever your problem/query is. It will be sent to the KDP official account and someone will contact you at an appropriate time.
3. Via Call
If you are looking for instant support, you can go with the "Call" option with KDP. I normally don't use this option unless I need an instant response during working hours. It is because you must have a clear idea of what you are looking for and an understanding of the deep concepts of KDP.
But if you are looking for instant response like your account is terminated without any notice, you can go with this method. Here are the steps that I have followed to utilize this option.
Step 1. Follow "Step 1 to Step 3" from the contact via E-mail section
Step 2. Click on the "Call us" button given below the "Phone" option shown on the right side of the screen
Be mindful that you should have your mobile phone for this as it is required to make a call. With this, you have learned how do I contact KDP by phone.
Make sure that you are contacting them on Thursday between 4 AM to 8 PM PT. If you contact them in addition to this time zone, you won't get contacted by anyone. This is the biggest drawback of this method as you can contact the support on a single day. That's why I always prefer to go with E-mail contact or Live Chat which I am going to share below.
4. Through Live Chat
Sometimes, you need quick responses with brief guidance to perform a specific action. For example, when I was connecting Canva with KDP, I needed such guidance. The only appropriate option I found at that time was Live Chat. Here is how I contacted them for guidance and contacted my accounts.
Step 1. Follow "Step 1 to Step 3" mentioned in the E-mail section
Step 2. Click on the "Live Chat" button given in the right section
You can go with this option via mobile or laptop as no restriction is implemented. It will be an easy approach to connect with KDP via this option. But you have to make sure that Live Chat is available in your country as it is not a feature that everyone can enjoy.
5. Using KDP Forum
The last method regarding how do I speak to someone at KDP is through a forum/community. You can find multiple answers here as people have discussed their queries and answers in the same section. It isn't only managed by the KDP team but users participate in discussions to find the solution.
For example, if you are looking for guidance on how to add a look inside button to KDP, you can go with this option. It is because users may have discussed it already in detail. If not, you can add your question there and ask someone to respond to it.
You only have to browse the Amazon KDP Community official website and follow the instructions. It is pretty simple to search for a question to find the related answers or add yours to let the support team respond to it or someone from the community share their words with you.
Final Wrapping
This is how I normally contact Amazon KDP for different queries. I hope you have learned how do I speak to someone at KDP for different problems. You can follow any of these methods fearlessly as I have tested these methods.
You won't face any complications or fraudulent behavior while doing so. Be mindful that you don't need to share your account credentials with anyone even from the support team. Also, make sure to visit the official website of Amazon KDP to log-in to your account or perform different tasks.
My name is Hassan, an SEO Expert having field experience of more than 10 years. During my career, I have helped multiple businesses in getting a strong position in SERP results with my optimization techniques as well as have built my websites too. With my SEO expertise, we have grown this website to make it visible for people in search engines.
Let me help you grow your business too by connecting via LinkedIn.